IForum of Clinical Engineering in the Mediterranean
"The role of clinical engineering in achanging healthcare - The perspectives of Mediterranean countries"
Finalstatement
The I Forum of Clinical Engineering (CE)in the Mediterranean took place in Bari, Italy the 13th of September2018. The event was organized by the Italian Clinical Engineers Associationwith the support of the Clinical Engineering Division of IFMBE and gatheredtogether representatives from 8 countries, all European Union members orcandidate EU members.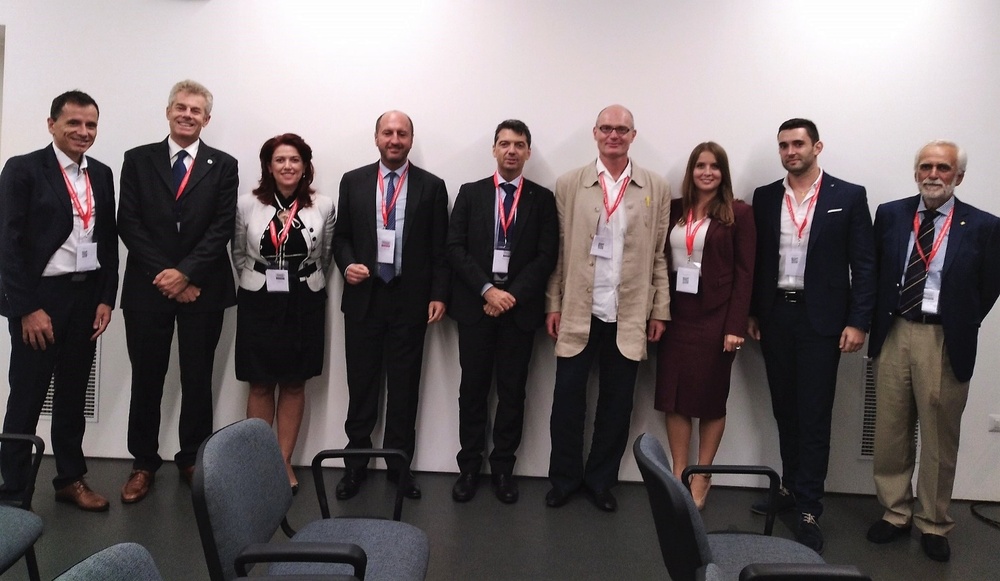 In the occasion of the ClinicalEngineering Day, 21st October 2018, the participants want to sharewith the global clinical engineering community and the general healthcarepublic the following points that emerged as the main shared issues in healthtechnology management.
- Medicaltechnology is reshaping the way health care is delivered but is at the sametime becoming more complex and extremely diverse. This requires special skillsto assess, use and maintain it, in order to be cost effective and safe, for thebenefit of the patients and our different countries. Comprehensive knowledge and application of theregulations for market surveillance and vigilance, the use of managementsystems and Health Technology Assessment becomes more critical than ever. Therole of Clinical engineering is worldwide recognized as essential in order tocope successfully with these developments.
- TheWHO initiative on a new Universal Nomenclature for Medical Devices, freelyavailable and appropriately maintained, is of high importance. Nomenclature isthe basis of a correct medical device (MD) inventory and essential for theComputerised Medical Devices Management Systems, used today in all developedcountries. It is also indispensable for an effective vigilance, pre and postmarket surveillance, as well as to Health Technology Assessment
- Thenew EU regulations on Medical Devices 745/2017 and 746/2018 will be fullyenforced in the next couple of years, and all parties involved (healthtechnology managers, medical device industry, regulators and national competentauthorities) must get ready to all new aspects involved. This will requiredissemination of knowledge on these novel aspects, training, etc. Manypractical aspects of these regulations must still be defined by the EUcommission with further acts (e.g. the MD nomenclature, UDI system, Eudameddatabase, single use MD reprocessing rules, etc.). We are concerned that allthese aspects will be ready and well defined in 2020, to avoid having"gray areas" that may lead to different and uncertain applicationsacross countries
- Withthe new EU regulations, a common identical legal framework is established throughoutEU; this will need to be applied in countries with different situations interms of health technology management development and approaches (e.g. internalclinical engineering vs. outsourcing, diffused presence of clinical engineeringdepts. versus lack of this profession, etc.). Cross-country collaborations willbe very useful to share experiences, best practices and success stories.
- Clinicalengineers are a key profession for patient safety and cost containment, is ahealth profession and must have full regulation and career paths as for otherhealth professions. The recent effort led by the WHO to complete a globalsurvey on the number of clinical and biomedical engineers (more than 800.000professionals worldwide) is very important, and we strongly support it as afundamental element for ILO (International Labour Organization) recognition ofour profession as a distinct and well-defined category
Clinical Engineering Day,21st October 2018
Jose Domingo Sanmartin - Sociedad Espanola de Electromedicina eIngenieria Clinica SEEIC, Spain
Christophe Parret - AssociationFrancaise des Ingenieurs Biomedicaux AFIB, France
Paolo Lago, Stefano Bergamasco, Lorenzo Leogrande - AssociazioneItaliana Ingegneri Clinici AIIC, Italy
Mario Medvedec - Croatian BiomedicalEngineering and Medical Physics Society CROBEMPS, Croatia
Lejla Gurbeta, Almir Badnjevic -Bosnia and Herzegovina Medical and Biological Engineering Society DMBIUBIH, Bosniaand Herzegovina
Dusan Perovic - Clinical Centre ofMontenegro, Montenegro
Ledina Picari – Ministry of Health,Albania
Nicolas Pallikarakis - HellenicSociety of Biomedical Technology ELEVIT, Greece
See brief video from CE colleaguesin Bari!
https://drive.google.com/open?id=0B9xX-ThmHLN6bE9fSVdVMUkzVDZvZUF1Tl9zRVc1b3cxYWZ3
Also see the press release issuedfor this meeting:
http://www.panoramasanita.it/2018/09/14/ingegneria-clinica-lanciato-da-bari-il-primo-statement-professionale-del-mediterraneo/